In this article, we will take an in-depth look at the Gettysburg gun safe reviews for you to easily compare, and a little about the brand and key features of the range of Gettysburg safes.
In today's world, with home burglary on the rise, it's vital you have a safe place in your home to store your firearms and most valuable possessions. Not all safes are equal and it is important you choose one from a reputable manufacturer. With that said, you will find none more reputable than the Gettysburg safes manufacturer, Rural King!
Gettysburg Safe Review Comparison
1. Gettysburg FS14E Fire resistant gun safe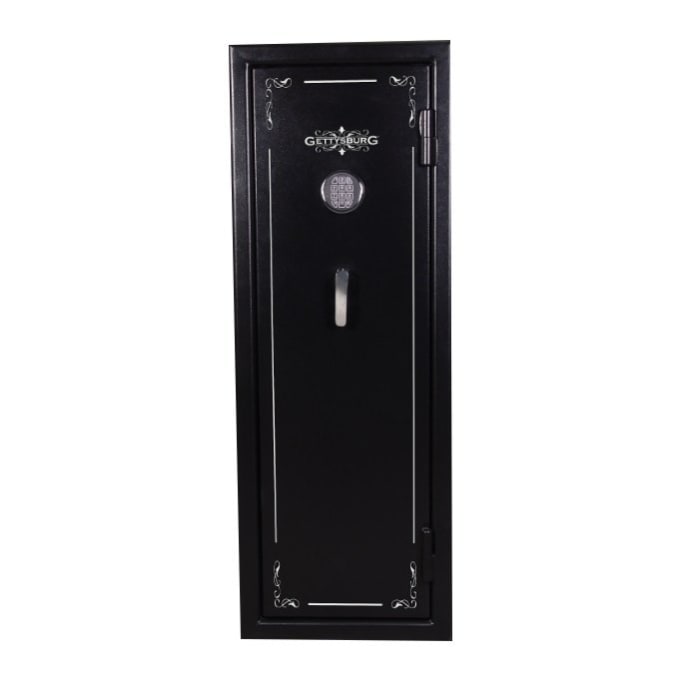 The FS14E is Gettysburg's most popular model. It is largely due to its compact size and reasonable pricing. The Gettysburg FS14E is built with 14-steel gauge and a fire rating of 1200 degrees Fahrenheit.
It can also hold about 14 long barrel guns – that is plenty of space for your weaponry. If you are starting to collect guns, or you have space concerns in your office or home, then Gettysburg's FS14E gun safe model will be a perfect choice for you.
Key Features
weighs 226 pounds
12-gauge steel door panel
1.5 inches thick door
door organizer
Recessed pry-resistant door
Programmable lock
Back-up key
Bolt down kit
Fitted with a UL-certified electronic lock to detect intruders. The lock is equipped with an Alarm-U theft alert system that helps you to know whenever someone attempts to tamper with your gun safe.
The Gettysburg FS14E also comes with an override key in case of the electronic locking system malfunctions, or you forget your codes.
As an extra layer of security, the Gettysburg FS14E has a pry-resistant recessed door and notched bolt. Furthermore, the safe comes with a heavy-duty bolt-down kit. Therefore you will not have to worry about your safe being carried away in a robbery.
2. Gettysburg FG72 Fireproof Gun Safe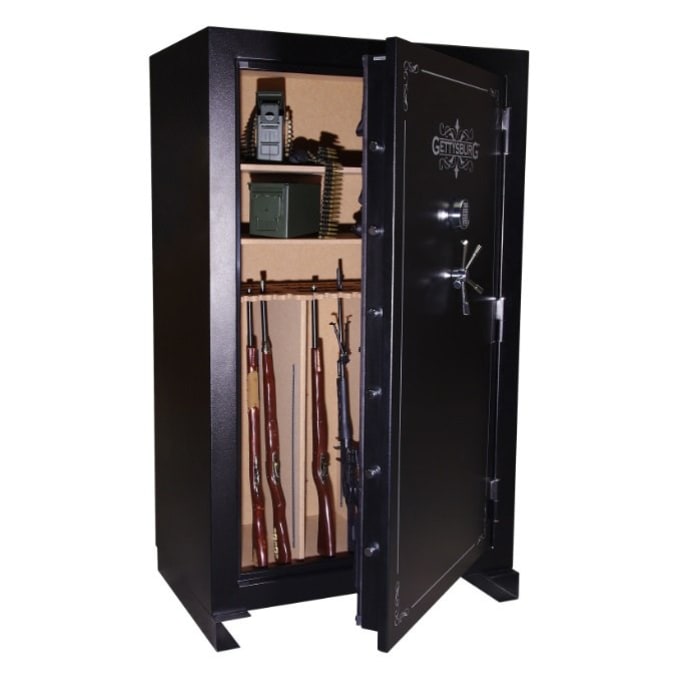 Gun owners who want a huge gun safe but have a limited budget might consider purchasing Gettysburg's FG72 model. This one will enable you to a spacious safe at a reasonable price.
Key Features
912 pounds
9 cubic feet interior
14-gauge steel body
1200 degrees Fahrenheit fire protection for 75 minutes
Door organizer and gun rack
Adjustable shelving
It is fitted with an electronic lock with an override key
Three-way locking bolts
Drill-resistant hard plate lock protection.
The Gettysburg FG72 model has a 38.9 cubic feet interior that can accommodate up to 84 firearms comfortably. It also has several features that will ensure that your guns are safe and secure. Weighing 912 pounds, the FG72 safe has 14-gauge exterior walls to ensure that your firearms are protected against any external attack.
The safe is capable of withstanding a 1200-degree Fahrenheit fire for 75 minutes. It is sufficient enough to ensure that your firearms and other valuables remain intact during a fire.
The Gettysburg FG72 gun safe also comes equipped with an electronic locking system that will help detect intrusion and also a backup key in case the electronic lock malfunctions. There is also a drill-resistant hard plate to further protect the lock. As an extra layer of security, the safe has three-way locking bolts. These include 14 active and six dead 1-inch bolts.
On the interior, the safe has adjustable shelving, a gun rack, and a door organizer. Such storage options provide you with adequate room to organize your handguns, long barrel guns, and other accessories in a manner that will allow having easy and quick access to them.
While the increased storage options are generally commendable, they might be a waste of space for individuals or institutions who own fewer guns or have fewer precious items to store.
3. Gettysburg FG48F Gun Safe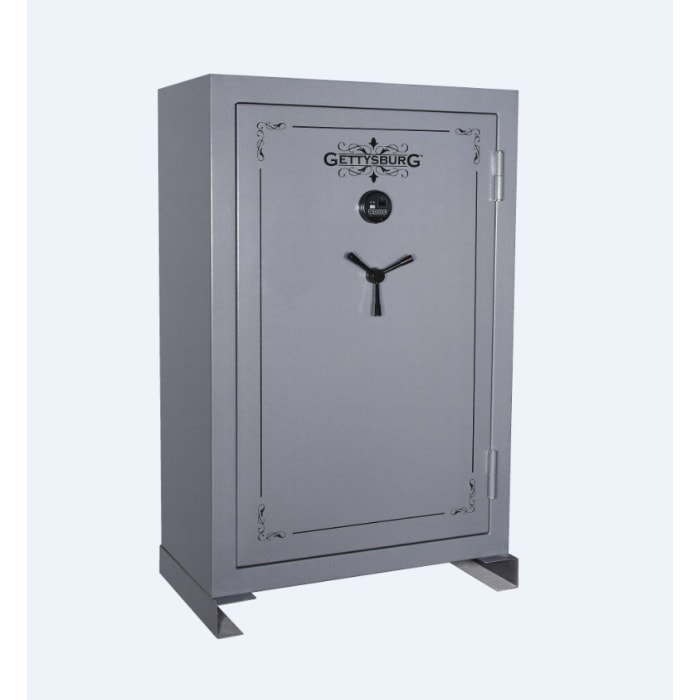 The FG48F is a heavy-duty 14-gauge exterior walls model that is capable of protecting your guns and other valuables from external pressure.
Key Features
It weighs approximately 520 pounds
14-gauge steel body
It can withstand a 1200 degrees Fahrenheit for half an hour.
It has a biometric lock with an override key for enhanced security.
4-way locking bolts
It has adjustable shelving, a gun rack, and a door organizer
Drill-resistant hard plate lock protection.
It has a storage capacity of up to 48 guns.
This model is fitted with a biometric locking mechanism that will allow you to access your guns at the press of a finger. It is also equipped with a backup key in case the fingerprint sensor malfunctions.
The Gettysburg FG48F's biometric lock is hard plate protected, therefore, it can resist virtually any drilling tool. To further tighten security, this model is fitted with 4-way locking bolts that include nine active and five dead 1-inch ones.
The safe can guard your firearms against fire damage at 1200 degrees Fahrenheit for 30 minutes.
On the interior, it features adjustable shelving and a door organizer that can accommodate up to 48 guns. It is also spacious enough to allow you to arrange space for some other valuable personal items.
While the FG48F model is commendable in terms of easy access, top-notch security as well as adjustability of the interior layout, its capacity is less impressive. It adopts a lukewarm approach, unwilling to select between conveniently compact and full-sized with its limited storage capacity.
4. Gettysburg P2EA-B Gun Biometric Pistol Safe

If you just have handguns and you are interested in finding a space-efficient, secure storage solution, then you should put investing in the Gettysburg P2EA-B Biometric Pistol Safe under consideration.
Key Features 
It is approved by the California Department of Justice.
It has LED-illuminated and foam-padded interior
It has pre-cut mounting holes
Hop-pocket for additional storage
Whisper quiet keypad
Alarm-U security alarm system
Biometric fingerprint access
It has a programmable lock
Override key
The Gettysburg P2EA-B is designed to grant you quick access to your firearm in the case of an emergency attack. It is fitted with a sensitive biometric fingerprint locking system that allows you to open the safe at the touch of a finger. The system is designed to store multiple fingerprints – up to 20, to enable you to grant your loved ones controlled access to the safe.
The locking mechanism is fitted with an Alarm-U Security system that gives you an alert when someone attempts to tamper with the lock and comes alongside an override key that you can use to access the safe if the fingerprint sensor malfunctions.
The P2EA-B model is highly portable, due to its low 11-pound weight. As a result, a thief can easily get away with it. To curb the possibility of such an incidence from occurring, this safe comes with pre-drilled holes so that it can be mounted on any surface securely.
To improve visibility in the dark, the interior of the safe features LED lighting. The model can hold two handguns and is fitted with form padding to protect your guns from scuffs and scratches.
Gettysburg's P2EA-B gun safe model is a viable choice for gun owners with just a handgun or two that fits into almost any space. However, its high portability is both a virtue and a vice.
5. Gettysburg 24FGS Gun Safe

If you intend to buy a gun safe for storing firearms with scopes, then Gettysburg's 24FGS model might be the proper one for you. It is fitted with barrel rests for that purpose.
Key Features 
95 cubic feet space.
It can withstand a fire burning at 1400 degrees Fahrenheit for 30 minutes.
It has a programmable electronic lock.
Five locking points
24 gun capacity
Carpeted interior for exquisite aesthetics
Black matte finish with chrome accents.
The Gettysburg 24FGS has high-end security features such as a fully programmable electronic lock that will enable you to select combination codes that you can remember easily.
The model also comes with an override key that can be used if you forget your code or the programmable electronic lock malfunctions. For improved security, the Gettysburg 24FGS model has five locking points. These include two steel deadbolts and three one-inch live-action bolts.
In terms of fire ratings, the safe can guard your firearms amidst temperatures that are as high as 1400 degrees Fahrenheit for 30 minutes, giving them ultimate protection. The safe interior has adjustable shelving that includes four shelves that you can customize to suit your particular needs.
You can tailor-make the safe to accommodate either 12 long barrel guns or 24 long barrel guns. You can even add a few handguns and other valuable items. Furthermore, the interior is carpeted to guard your firearms against scratches and scuffs.
The versatility of this safe is commendable as it provides impressive customization options inside. However, many users have complained about the reliability of the keypad, this is concerning because a safe that cannot be opened easily is no good.
Buying Guide
When buying a gun safe, you must have adequate knowledge of what you are looking for. It will help you make a purchase decision that is best suited for your needs. Below is a list of some of the critical features that you should look for in a gun safe.
Space

You must buy a gun safe that can accommodate all your gun collections. It is one of the most crucial factors that should influence your purchase decision. It is not wise to buy a gun safe without first assessing whether all your ammunition will be able to fit in. On the other hand, buying a bulky gun safe while you have a few guns is a waste of money as the safe will always have redundant space.
Fire rating

Since your gun safe will also house your valuable items and documents, you must consider the fire rating of the model you are going to buy. A gun safe with a high fire rating will be enough that your precious items remain intact in the event of a fire outbreak.
Advanced security systems

A gun safe should be inaccessible to unauthorized persons as much as possible. It will ensure that your valuables do not fall prey to thieves. It will also ensure that it does not fall into wrong hands, such as those of minors. Therefore, you must select a model with multiple layers of security checks.
Who Makes Gettysburg Gun Safes?
Gettysburg is a registered trademark of Rural King Holdings. It is a brand of competitively priced gun safes that still uphold the highest in terms of security, fire protection, elegance, and convenience.
Gettysburg safes are made by Ningbo Yongfa Group Co Ltd, which is a Chinese-based manufacturer of theft-proof safes and other high-security products.
Rural King buys the safes and sells them under their private label Gettysburg. Simply put, Gettysburg safes are produced in China, imported to the United States, and sold exclusively at Rural King Stores.
Investing in a Gettysburg gun safe will enable you to enjoy great warranties that are highlighted below:
One-year Standard Warranty – Gettysburg might decide to replace or repair a product once they confirm that it defected.
Lifetime Attack Warranty – If your Gettysburg gun safe is damaged due to a fire outbreak or attempted robbery, the company may repair and replace it.
Five-Year Product Warranty – Some parts of the Gettysburg gun safe are insured for five years. The paintwork is covered for two years.
Some Other Articles You May Be Interested In
FAQ
Is Gettysburg Safe Reliable?
The Gettysburg Gun Safe uses the latest tech and provides immediate access to your expensive items and other valuables. These locks are highly reliable, depending on your age and purchase.
Gettysburg offers the most reliable and high-quality fingerprint reader with rare false reads. For those more than 55 years of age, the fingerprint safes won't be accurate as their fingerprints thin with age to have reliability issues.
How Do Gettysburg Gun Safes Work?
A: Gettysburg Gun safes provide a secure reader for a fingerprint that makes sure to record the unique characters and whirls on your fingers in a digital and encrypted format.
When the person swipes the finger over the reader, signals will be sent and the fingerprint will be matched to the one stored previously in the memory of the lock. If it matches, the safe will open up. If there is an error or it doesn't fit, then the safe will remain closed.
Is the Gettysburg Safe Fireproof?
The Gettysburg Safes have high fire ratings and can withstand 1200 to 1400 degrees Fahrenheit easily. It has a steel body which keeps it protected for some time.
If the lock battery dies out completely, will the Gettysburg Gunlock be able to remember the fingerprint?
Yes, Gettysburg safes will surely remember your fingerprint as it is stored in a small chip of volatile memory. In case the battery dies completely, the fingerprints will be saved. You can replace the battery and then swipe your finger again to unlock the safe.
How to replace the battery on the Gettysburg Gun safes?
The location of the battery is different in every safe. The structure is different. In some safes, It is located at the bottom or some outside or inside for an easy change.
You will need the override key for changing the batteries. You must check out the manual for instructions about changing the battery.
What happens if my fingerprint doesn't work?
If the fingerprint doesn't work, you must contact the vendor as there are other ways to enter the safe even if there are problems. The issues could be because of the lock failure, fingerprint thinning, or the dead battery.
In most cases, the override key provided with the device works best to access your valuables.
Are Gettysburg Gun safes good?
Yes, Gettysburg gun safes are amongst the highest-rated safes available at a commercial level. The Provide top-level security and are a reputable company with a long history in home security.
Where are Gettysburg gun safes made?
Gettysburg gun safes are made in China by Rural King and imported to the USA where they are sold from Gettysburg.
Final Thoughts
The line of Gettysburg safes made by Rural King is definitely capable of providing the protection you need for your firearms and other valuables in your home, office, or wherever you store them!
So that's it for our Gettysburg gun safe reviews, we hope you find them helpful in choosing if Gettysburg safes are for you!